Fansadox Collection 217 - Erenisch - SLAVECOP: Agent Cumgulper Vs The Cult
[DoFantasy] Fansadox Collection #217 - SLAVECOP: Agent Cumgulper Vs The Cult
Erenisch | English | True PDF | 96 pages | 18.02 Mb
Decrypted PDF version

When a girl reaches slavery age, she can be bought, sold and rented she becomes her owner's property! The cult, a bizarre organization that frees slaves, is now the deadly enemy of SLAVECOPS...


IMPORTANT NOTICE - DISCLAIMER
All characters are 18 years old or older. This is an entirely fictional work based on cartoon characters for adult entertainment. It shows no real people or events. The characters are shown participating in CONSENSUAL role-play for their own personal satisfaction, simulating activities which involve sexual dominance and submission. No actual toons were harmed in the making of this comic.

WHEN A GIRL REACHES SLAVERY AGE, SHE CAN BE BOUGHT, SOLD AND RENTED. SHE BECOMES HER OWNER'S PROPERTY!
SLAVECOPS PATROL THE SKY TO LOCATE AND CAPTURE RUNAWAY SLAVEGIRLS AND SEND THEM BACK TO THEIR OWNERS!

THE CULT, A BIZARRE ORGANIZATION THAT FREES SLAVES, IS NOW THE DEADLY ENEMY OF SLAVECOPS.


The year is 2022... Many countries have passed the 'Compulsory Female Slavery Law' that legalizes the sexual use and trade in nubile women over 18 years of age.
When a girl reaches slavery age, she can be bought and sold, hired and whored, and be used in every imaginable way. She becomes her owner's personal property.
When enslaved and sold, a woman is officially registered as the property of her master by the Bureau of Female Affairs.
The BFA determines the slave-tax an owner must pay for the slave women he keeps.
These taxes fund the infamous Slavery Enforcement and Fugitive Retrieval Unit of the BFA, better known as the Slavecops.
BFA was much feared by slave thieves and runaway slaves...
Our story follows Agent-slave Lidia Cumgulper, one of the elite slavegirls who are chosen and trained by the BFA to hunt down their own kind...
______________________
That day, agent Lidia Cumgulper receives an urgent call from SLAVECOP central station. A runaway slavegirl just escaped from her sadistic master in the area she's patrolling. The terrified escapee didn't realize that her collar was a GPS transmitter...
In just five minutes, Lidia is flying over the girl and captures her swiftly and efficiently.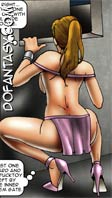 This time Lidia has been successful, but that is not always the case. In recent months, many slavegirls have disappeared, never to be found again.
SLAVECOP officials believe there is an organized mafia that steals the girls from their owners and then sets them free or, even worse, operates an underground slave business in competition with the official slave agency, the BFA.
Agent Lidia Cumgulper is assigned to a crucial mission. She's the bait. She'll be 'rescued' or 'captured' by the mafia.
The agent's physical beauty and sexiness make her an easy target, and the bait is soon taken.
She soon meets a man who promises to set her free, and agrees to a rendezvous in a scheduled remote place in the desert.
The place is run by a bizarre Cult whose god is a deformed mutant.
Agent Lidia Cumgulper soon discovers that the girls there are not free at all..
FANSADOX COL 217 SLAVECOP - CUMGULPER VS THE CULT Electronic PDF format in ENGLISH
DON'T MISS THE EXCITING NEXT PART OF THIS COMIC:
SLAVECOP 2: THE BREED
---
Download - Uploaded.net

Mirror - Upstore.net